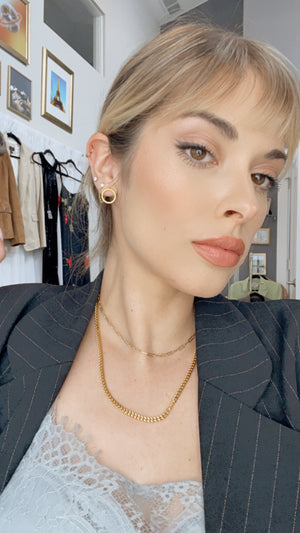 Circle Studs
Silver Stainless Steel OR 14k Gold Plated
Hypoallergenic
Handmade in Atlanta
This dainty pair of stud earrings features a large open circle design and a brushed silver or 14k gold finish. Perfect for an everyday look.
Care info from designer:
"Our stainless-steel jewelry uses a hypoallergenic grade 316L for greater resistance to tarnish. Considered one of the safest metals to use for sensitive skins, our stainless-steel jewelry is plated using an IP Plating method, where two layers of material are applied in a vacuum chamber. With normal use, stainless-steel jewelry does not change color and is tarnish resistant. As a result, we generally use stainless-steel for our stackable rings as it is the piece of jewelry that will have the most exposure to water and other substances. 
We recommend that stainless steel jewelry be the last item you put on when accessorizing your outfit. At the end of the day, remove your Admiral Row piece and run a soft cloth over it before going to bed. Do not use any polish or soap to clean the jewelry as it could strip the plating. Carefully store your jewelry to avoid tangling and scratches."